THE DISEASE MANAGEMENT COLLOQUIUM
The Only Executive Education Course on the Role of Disease Management in Medicare, Medicaid, Healthcare Cost Efficiency, Quality and Medical Errors Reduction

May 7 - 9, 2007
Hyatt Regency Philadelphia at Penn's Landing
Philadelphia, PA

DM COLLOQUIUM MULTIMEDIA
Watch video of the 2007 Disease Management Colloquium on the go. The Disease Management Colloquium offers Podcasting of all general sessions on a 30gb Video iPOD™, a CD-ROM, or a Flash Drive. Concurrent breakout session audio and all related presentation materials are also included on each multimedia format.

Click here to order!
SAVE THE DATE
THE EIGHTH DISEASE MANAGEMENT COLLOQUIUM AT JEFFERSON
May 19 - 21, 2008
Philadelphia, PA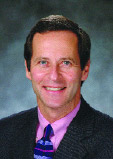 David B. Nash, MD, MBA, FACP
Jefferson Medical College

"We are very pleased to be able to welcome everyone to the Disease Management Colloquium in Philadelphia. We believe this is an outstanding conference and we know you will all enjoy it immensely. We have assembled a top notch faculty and the interaction will be first rate. Disease Management is a dynamic field and in order to stay on top of the details it takes hard work and attention to what the experts have to say."
KEYNOTE SPEAKERS
George Bennett, PhD
Chairman and Chief Executive Officer, Health Dialog, Boston, MA
Paul Keckley, PhD
Executive Director, Deloitte Center for Health Solutions, Deloitte & Touche USA LLP, Associate Professor, School of Medicine, Vanderbilt University, Advisor, HealthGate, Nashville, TN
Al Lewis
President, Disease Management Purchasing Consortium International, Inc., Past President, Disease Management Association of America, Wellesley, MA
Frank Martin
Chairman and Chief Executive Officer, I-trax, Inc., Chadds Ford, PA

Tracey Moorhead
President and Chief Executive Officer, Disease Management Association of America, Washington, DC
Emad Rizk, MD
President, McKesson Health Solutions, Boston, MA
Earl Steinberg, MD, MPP
President and Chief Executive Officer, Resolution Health, Inc., Chevy Chase, MD
Warren E. Todd
Executive Director, International Disease Management Association, Flemington, NJ
Paul Wallace, MD
Medical Director for Health and Productivity Management Programs, Senior Advisor, The Care Management Institute and KP-Healthy Solutions, The Permanente Federation, Kaiser Permanente, Oakland, CA
FEATURED FACULTY
David Adams, RPh
Director of Health Management Resources, Boehringer-Ingelheim Pharmaceuticals, Inc., Ridgefield, CT

David Ahern, PhD
Chief Science Officer, The Abacus Group, Cranston, RI

Brian Baum, MBA
President and Chief Operating Officer, US Preventive Medicine, Inc., West Friendship, MD

Michael Becker, RN, MSN
Director, Temple University Hospital, Temple University Health System, Philadelphia, PA

Phil Benditt, MD (Invited)
Medical Director, Healthcare Services, United HealthCare, Philadelphia, PA

Jeffrey Brenner, MD
Clinical Instructor, Department of Family Medicine, Robert Wood Johnson Medical School-Camden, Camden, NJ

Joe Brisson
Vice President Client Services, Browersoft, Shawnee Mission, KS

Kathy Brooke
Director, Benefits Strategic Planning, AstraZeneca Pharmaceuticals LP, Concord, DE

Marnie W. Bute, RN
Director, Health and Care Business Development, HealthPartners, Bloomington, MN

Clair M. Callan MD, MBA, CPE, FACPE
CEO, Callan Consulting, Lake Forest, IL

Ian Duncan, FSA, FIA, FCIA, MAAA
Solucia, Inc., Author, Predictive Modeling: Understand the Black Box, Hartford, CT

Charles Eaton, MD, MS
Professor, Family Medicine, Brown Medical School, Providence, RI

Nora Dowd Eisenhower, JD
Secretary, Pennsylvania Department of Aging, Harrisburg, PA

Brian Esterly, MBA
Senior Vice President, Corporate Development, ExcelleRx, Inc., Philadelphia, PA

Raymond Fabius, MD, CPE, FACPE
President and Chief Medical Officer, CHD Meridian Healthcare and I-trax, Chadds Ford, PA

Don Fetterolf, MD, MBA
Corporate VP Strategic Initiatives Health Intelligence, Matria Healthcare, Inc., Marietta, GA

Neil Goldfarb
Program Director, Research, Department of Health Policy, Jefferson Medical College, Thomas Jefferson University, Philadelphia, PA

Tine Hansen-Turton, MGA
Vice President of Healthcare Access and Policy, Philadelphia Health Management Corporation, and Chief Executive Officer, National Nursing Centers Consortium, Philadelphia, PA

James Hardy
Former Deputy Secretary, Office of Medical Assistance Programs, Commonwealth Of Pennsylvania and Current President, Sellers Feinberg, Harrisburg, PA

Eric Hillson, PhD, MSc, MBA, MA, BSPharm
Director, Medical Affairs, Centocor, Horsham, PA

Bruce Kehr, MD
Chairman and Chief Executive Officer, InforMedix Inc., Rockville, MD

Edward Kim, MD
Associate Director, Neuroscience Medical Strategy, Bristol-Myers Squibb, Plainsboro, NJ

Harry Leider, MD, MBA
Chief Medical Officer, XLHealth, Baltimore, MD

Ariel Linden, DrPH, MS
President, Linden Consulting Group, Author, DMAA Award-Winning Article "What Will It Take to Show an ROI in Disease Management", American Journal of Managed Care (April 2006), Hillsboro, OR

Ronald Loeppke, MD, MPH
Chief Medical Officer, Executive Vice President, CorSolutions Inc., Brentwood, TN

Marti Macchi, MEd
Director of Special Studies, Office of Health Promotion, Kansas Department of Health and Environment, Topeka, KS

Carole J. DeSpain Magoffin, MSW
Vice President for Quality, National Minority Quality Forum, Washington, DC

Molly Mettler
Senior Vice President, Healthwise, Boise, ID

Thomas Morrow, MD
President, National Association of Managed Care Physicians, Director, Genentech, San Francisco, CA


David B. Nash, MD, MBA, FACP
Dr. Raymond C. and Doris N. Grandon Professor of Health Policy and Chair of the Department, Jefferson Medical College, Thomas Jefferson University, Philadelphia, PA

Esther Nash, MD
Senior Medical Director, Population Health & Wellness, Independence Blue Cross (IBC), Philadelphia, PA

Gordon Norman, MD, MBA
Executive Vice President and Chief Medical Officer, Alere Medical, Irvine, CA

Michael O'Neil, Jr.
Founder and Chief Executive Officer, GetWellNetwork, Bethesda, MD

Michael Painter, JD, MD
Senior Program Officer, Robert Wood Johnson Foundation, Princeton, NJ

Charles Peck, MD
Chief Medical Officer and Medical Director, Take Care Health Systems, Conshohocken, PA

Art Pelberg, MD, MPA
President and Chief Medical Officer, Schaller-Anderson, Inc., Phoenix, AZ

Richard Popiel, MD, MBA
Vice President and Chief Medical Officer, Horizon Blue Cross Blue Shield of New Jersey, Newark, NJ

James O. Prochaska, PhD
Director, Cancer Prevention Research Consortium, Professor of Clinical and Health Psychology, University of Rhode Island, Honorary Chair of Medicine, University of Birmingham, Kingston, RI

Lucia Rosenberg, MBA, SVP
Product Development, US Preventive Medicine and Former Director, Institute of Education, Philadelphia International Medicine

Laurie Russell
Senior Director, Health Solutions, XLHealth, Baltimore, MD

Patricia Salber, MD, MBA
President, PRS Strategic Healthcare Consulting, Larkspur, CA

Harm Scherpbier, MD
Siemens Health Services, Malvern, PA

James Schibanoff, MD
Editor-in-Chief, Milliman Care Guidelines, LLC

Bruce Sherman
Medical Director, Global Services, Goodyear Rubber and Tire Company, Cleveland, OH

Dexter Shurney, MD, MBA
Senior Vice President and Chief Medical Officer, Healthways, Nashville, TN

Kimberly Siejak, MS
Manager, Population Health & Wellness, Independence Blue Cross (IBC), Philadelphia, PA

Charlyn Slade, RNC, MSN
President, TLContact, Inc., Chicago, IL

Neal Sofian, MSPH
Chief Executive Officer, The NewSof Group, Seattle, WA

Michael Solomon
Affiliated Consultant, Point-of-Care Partners, LLC, Coral Springs, FL

Art Sprenkle, MD (Invited)
Washington State Medical Education and Research Foundation, Snohomish, WA

Sandeep Wadhwa, MD, MBA
Vice President, Care Management Services, McKesson Health Solutions, Broomfield, CO

Annette Watson, RN, MBA
Chief Accreditation Officer, Utilization Review Accreditation Commission, Washington, DC

Richard C. Wender, MD
Alumni Professor and Chair, Department of Family and Community Medicine at Jefferson Medical College of Thomas Jefferson University and Thomas Jefferson University Hospital, President of the American Cancer Society, Philadelphia, PA

Donald F. Wilson, MD
Medical Director, Quality Insights of Pennsylvania, Wayne, PA

Christopher Wise, PhD, MHA
Administrative Director, Medical Management System, University of Michigan Health System, Ann Arbor, MI

James Wrocklage
Executive Director, Greater Milwaukee Business Foundation on Health Inc., Sussex, WI

Carolyn Young, FSA, MAAA
Senior Actuary, Medical Cost Analysis & Forecasting, Independence Blue Cross (IBC), Philadelphia, PA

Scott Young, MS
VP, Solutions & Strategy Development, IncentOne, Lyndhurst, NJ

SPONSORS
GRANTORS
SILVER
BRONZE
ADDITIONAL
COSPONSORS