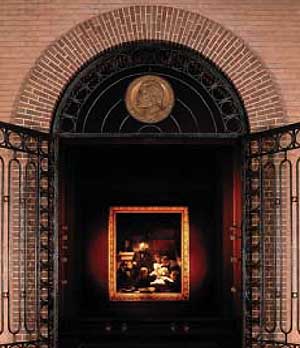 "The Gross Clinic," a portrait by Thomas Eakins of Dr. Samuel Gross, JMC 1828, in his surgical clinic at Jefferson Medical College, is framed by the Alumni Gate to the Eakins Gallery, located in Jefferson Alumni Hall.


THE DISEASE MANAGEMENT COLLOQUIUM
The Only Executive Education Course on the Role of Disease Management in Medicare, Medicaid, Healthcare Cost Efficiency, Quality and Medical Errors Reduction


May 10 - 12, 2006

Hyatt Regency Philadelphia at Penn's Landing
Philadelphia, PA




SPONSORED BY
Silver Grantors
Bronze Grantors
Other Grantors
CD-ROM NOW AVAILABLE!
2005 Disease Management Colloquium
Purchase a CD-ROM which includes video of speakers with synced powerpoint presentations.


View the Disease Management Colloquium plenary sessions video with synchronized PowerPoint slides and audio on a CD-ROM from your computer. Instantly navigate to the presenter and the exact content you are after.

Ensure that your team's knowledge is current.

Click here for more details
and to order your copy today!
DISEASE MANAGEMENT JOURNAL EDITORIAL BOARD MEETING
The Colloquium is pleased to host the Annual Meeting of Disease Management Journal Editorial Board.

Click here for more details.
---
SAVE THE DATE!
THE DISEASE MANAGEMENT COLLOQUIUM
The Leading Forum on Innovations in Chronic Care and Disease Management Sponsored by Department of Health Policy, Jefferson Medical College Cosponsored by Disease Management Association of America (DMAA) and Disease Management Journal
May 7 - 9, 2007
Hyatt Regency Philadelphia at Penn's Landing
Philadelphia, PA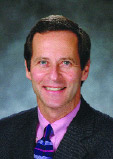 David B. Nash, MD, MBA, FACP
Jefferson Medical College

"We are very pleased to be able to welcome everyone to the Disease Management Colloquium in Philadelphia. We believe this is an outstanding conference and we know you will all enjoy it immensely. We have assembled a top notch faculty and the interaction will be first rate. Disease Management is a dynamic field and in order to stay on top of the details it takes hard work and attention to what the experts have to say."





FEATURING SPECIAL TRACKS ON:
Achieving and Measuring Return on Investment (ROI) from Disease Management Initiatives
International Disease Management Approaches
Case Studies in the Medicare and Medicaid Initiatives in Chronic Care
The Role of Disease Management in Consumer Driven Health Plans
The Role of Financial Incentives, including Pay for Performance, in Implementing Disease Management Programs
Employer Initiatives in Disease Management
Disease Specific Disease Management Strategies
The Role Health Information Technology in Implementing Disease Management Programs
Wall Street Meets Main Street: Investment Analysts Assess the Future of Disease Management
COLLOQUIUM CO-CHAIRS:

Mary Swatek Hudson
Vice President, Market Development, Nutrition 21, Inc., Purchase, NY

Al Lewis
President, Disease Management Purchasing Consortium International, Inc., Past President, Disease Management Association of America, Wellesley, MA

Nancy McCall, ScD
Principal Scientist, RTI International Division of Health Economics Research, Research Triangle Park, NC

David B. Nash, MD, MBA, FACP
Dr. Raymond C. and Doris N. Grandon Professor of Health Policy and Chair of the Department, Jefferson Medical College, Thomas Jefferson University, Philadelphia, PA

Lucia Rosenberg, MBA
Director, Institute of Education, Philadelphia International Medicine

Patricia Salber, MD, MBA
President and Chief Executive Officer, Acelacare, Inc., Larkspur, CA

Warren E. Todd
Executive Director, International Disease Management Association
Flemington, NJ

Paul Wallace, MD
Executive Director, Care Management Institute, Kaiser Permanente, Oakland, CA

Donald F. Wilson, MD
Medical Director, Quality Insights of Pennsylvania, Wayne, PA

FEATURED FACULTY:

David A. Arena, MEd, MBA, JD, PsyD
Administrator and Assistant Professor, Chestnut Hill College, Center Valley, PA

David Atkins, MD
Coordinator for Clinical Preventive Services, Agency for Healthcare Research and Quality, Rockville, MD

Ron Bangasser, MD
Director of External Affairs, Beaver Medical Group, Immediate Past President, California Medical Association, Redlands, CA

Alan Barbell
Director, Product Management, Soarian Disease Management, Siemens Medical Solutions, Malvern, PA

George Bennett
Chairman and Chief Executive Officer, Health Dialog, Boston, MA

Elaine Blechman, Ph.D.
Professor, University of Colorado, Boulder, Founder and Chief Executive Officer, Prosocial Applications, Inc., Boulder, CO

David Chess, MD
Chief Executive Officer/Chief Medical Officer, Enhanced Care Initiatives, Stratford, CT

Marcia J. Coleman, MD
Vice President, U.S. Medical Communications, Wyeth Pharmaceuticals, Philadelphia, PA

Michael Dermer
President and Chief Executive Officer, IncentOne, Carlstadt, NJ

Ian Duncan, FSA, FIA, FCIA, MAAA
Solucia, Inc., Author, Predictive Modeling: Understand the Black Box, Hartford, CT

Raymond J. Fabius, MD
President and Chief Medical Officer, CHD Meridian, Chadds Ford, PA

David Ferriss, MD
National Medical Executive, Clinical Program Development, CIGNA Healthcare, Hartford, CT

Thomas J. Foels, MD, MMM
Associate Medical Director, Independent Health, Buffalo, NY

David Hunsaker
President, APS Public Programs, Silver Spring, MD

C. Sandra Garrison, BSN, MBA
Director, Chronic Heart Failure Initiative, The Chester County Hospital, West Chester, PA

James M. Gill, MD, MPH
Director, Health Services Research, Department of Family and Community Medicine, Christiana Care Health Services, Wilmington, DE

Ron Z. Goetzel, Ph.D.
Vice President, Consulting and Applied Research, MedStat, Washington, DC

Robert A. Greene, MD, FACP
Associate Medical Director, Rochester Individual Practice Association, Inc., Rochester, NY

Sean Ianchulev, MD, MPH
Medical Director, Peristat, Long Beach, CA

Stephen A. Kardos
Chief Executive Officer, HNA/Triveris, Eatontown, NJ

Bruce A. Kehr, M.D.
Chairman and CEO, InforMedix, Inc. The Medication Adherence Solution, Rockville, MD

Robert W. Land
Chief Information Officer, I-trax, Inc., Chadds Ford, PA

Ben R. Leedle, Jr.
President and Chief Executive Officer
American Healthways
Nashville, TN

Ariel Linden, DrPH, MS
President, Linden Consulting Group, Hillsboro, OR

Ron Loeppke, MD
Chief Medical Officer, CorSolutions, Rosemont, IL

Linda M. Magno
Director, Medicare Demonstrations Program Group, Centers for Medicare and Medicaid Services, Baltimore, MD

Beth Ann Marootian, MPH
Director of Business Development, Neighborhood Health Plan of Rhode Island, Providence, RI

Frank Martin
Chairman and Chief Executive Officer
I-trax, Inc.
Chadds Ford, PA

Claude F. Mondiere, MD
President, De Mondiere Corporation, Houston, TX

Tracey Moorhead
Executive Director
Disease Management Association of America
Washington, DC

Thomas J. Morrow, MD
Former Vice President and Medical Director, Matria Healthcare, Inc., Purchase, NY

David W. Moskowitz MD, MA (Oxon.), FACP
Chief Executive Officer, GenoMed, St. Louis, MO

Marcia Naveh, MD, FACP
Medical Director, Matrix Medical Network, Brooklyn, NY

Victoria Neidigh
National Manager, Clinical Data Services, GE Health, Oxford, PA

William J. Oetgen, MD, MBA
Member, Disease Management Oversight Task Force, American College of Cardiology, Alexandria, VA

Brooks O'Neill
Senior Research Analyst
Avondale Partners, LLC
Minneapolis, MN

Daniel Perry (Invited)
Executive Director, Alliance for Aging Research, Washington, DC

Rebekah N. Plowman, Esq.
Partner, Epstein, Becker, and Green, Atlanta, GA

Richard G. Popiel, MD, MBA
Vice President and Chief Medical Officer
Horizon Blue Cross Blue Shield
Newark, NJ

William C. Popik, MD
Former Chief Medical Officer, Aetna Inc., President-Elect, Disease Management Association of America, Hartford, CT

Roger W. Reed, BSN, RN, FNP, PA
Chief Health Officer, Gordian Health Solutions, Inc., Franklin, TN

Emad Rizk
President, McKesson Health Solutions
Boston, MA

Christobel E. Selecky
Executive Chair
LifeMasters Supported SelfCare, Inc.
Irvine, CA

Mark Selna, MD
Associate Chief Medical Officer, Clinical Effectiveness, Geisinger Health System, Danville, PA

Sherry Shults, RN BSN
Chief Information Officer, South Carolina Heart Center, Columbia, SC

Earl P. Steinberg, MD, MPP
CEO and President, Resolution Health, Inc., Monkton, MD

David Tinkelman, MD
Vice President of Health Initiatives, National Jewish Medical and Research Center, Denver, CO

I. Steven Udvarhelyi, MD
Senior Vice President and Chief Medical Officer
Independence Blue Cross
Philadelphia, PA

Sandeep Wadhwa, MD
Vice President, Care Management Services, McKesson Health Solutions, Broomfield, CO

Dennis White
Vice President, Value Based Purchasing, National Business Coalition on Health, Washington, DC

Donald F. Wilson MD
Medical Director, Quality Insights of Pennsylvania, Wayne, PA

Janet S. Wright, MD, FACC
Chair, American College of Cardiology Disease Management Task Force, Northstate Cardiology Consultants, Chico, CA