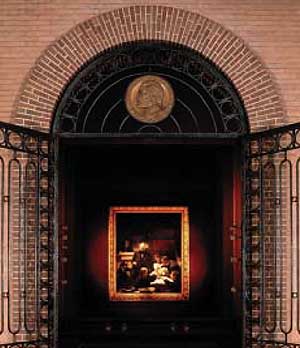 "The Gross Clinic," a portrait by Thomas Eakins of Dr. Samuel Gross, JMC 1828, in his surgical clinic at Jefferson Medical College, is framed by the Alumni Gate to the Eakins Gallery, located in Jefferson Alumni Hall.


THE DISEASE MANAGEMENT COLLOQUIUM AT JEFFERSON MEDICAL SCHOOL
The First and Only Executive Education Course on the Role of Disease Management in Medicare, Medicaid, Healthcare Cost Efficiency, Quality and Medical Errors Reduction


June 27 - 30, 2004

Classes Held:
McClellan Hall
Department of Health Policy
Jefferson Medical College
Philadelphia, PA

Colloquium Hotel :
Marriott Philadelphia Downtown
Philadelphia, PA

Sponsored by:
Department of Health Policy
Jefferson Medical College



David B. Nash, MD, MBA, FACP
Jefferson Medical College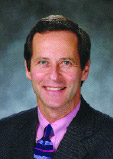 "We are very pleased to be able to welcome everyone to our campus in Philadelphia. We believe this is an outstanding conference and we know you will all enjoy it immensely. We have assembled a top notch faculty and the interaction will be first rate. Disease Management is a dynamic field and in order to stay on top of the details it takes hard work and attention to what the experts have to say."


Co-sponsored by:
AIS's Managed Care Week
AIS's News and Strategies for Managed Medicare and Medicaid
American College of Medical Quality
Disease Management Advisor
Disease Management News
Disease Management Purchasing Consortium
Executive Report on Managed Care
Harvard Health Policy Review
Health Affairs
Health Policy, Politics and Law
Health Technology Center
HealthLeaders
Journal of Clinical Outcomes Management
Scrip World Pharmaceutical News
www.BusinessandHealth.com


---
GOLD GRANTORS

SILVER GRANTORS
---
For future information about the Disease Management Conferences and related educational events, please complete the form below.
SAVE THE DATE
SECOND ANNUAL DISEASE MANAGEMENT COLLOQUIUM
The Leading Forum on Innovations in Chronic Care and Disease Management
June 21 - 24, 2005
Department of Health Policy
Jefferson Medical College
Philadelphia, PA
NOW AVAILABLE!
Purchase a CD-ROM which includes video of speakers with synced powerpoint presentations.

THE DISEASE MANAGEMENT COLLOQUIUM ON CD-ROM
View the Disease Management Colloquium plenary sessions video with synchronized PowerPoint slides and audio on a CD-ROM from your computer. Instantly navigate to the presenter and the exact content you are after.

Ensure that your team's knowledge is current.

Click here for more details
and to order your copy today!

Keynote Speakers:

Carolyn M. Clancy, MD
Director, Agency for Healthcare Research and Quality, Rockville, MD

Molly Joel Coye, MD, MPH
Founder and President, Health Technology Center, Former Director, California Department of Health Services, and Former New Jersey Commissioner of Health, San Francisco, CA

Stuart Guterman
Director, Office of Research, Development and Information, Centers for Medicare and Medicaid Services, Baltimore, MD

John Iglehart
Founding Editor, Health Affairs, National Correspondent, New England Journal of Medicine, Washington, DC

David Kreiss
Special Assistant, Office of the Administrator, Centers for Medicare & Medicaid Services, Washington, DC

Al Lewis
Executive Director, Disease Management Purchasing Consortium International, Inc., and Past President, Disease Management Association of America, Wellesley, MA

David B. Nash, MD, MBA, FACP
The Dr. Raymond C. and Doris N. Grandon Professor of Health Policy and Chair of the Department, Jefferson Medical College, Thomas Jefferson University, Philadelphia, PA

Samuel R. Nussbaum, MD
Executive Vice President and Chief Medical Officer, Anthem Blue Cross Blue Shield, and President, Disease Management Association of America, Indianapolis, IN

Susanne Stoiber, MS
Executive Officer, Institute of Medicine, and Former Assistant Secretary for Health/Planning and Evaluation, Department of Health and Human Services, Washington, DC

Robert Stone
Executive Vice President, American Healthways, and Immediate Past President, Disease Management Association of America, Nashville, TN

Featured Faculty:

Kyle R. Allen, DO
Chief, Division of Geriatric Medicine, Medical Director, Post Acute and Senior Services, Summa Health System, and Associate Professor of Clinical Internal and Family Medicine, Northeastern Ohio Universities College of Medicine, Akron, OH

Beau Carter
Senior Health Policy and Strategy Consultant, Med-Vantage, Inc., San Francisco, CA

Barry P. Chaiken, MD, MPH
Chief Medical Officer, American Board of Quality Assurance and Utilization Review Physicians, Boston, MA

Robb A. Cohen
Vice President, Medicare and Medicaid Services, XLHealth, Baltimore, MD

David Kaplan, MD
Disease Management Specialist, Mercer Human Resource Consulting, San Francisco, CA

Paul Keckley, Ph.D.
Director, Center for Evidence-Based Medicine, Associate Professor, School of Medicine, Vanderbilt University and Advisor, HealthGate, Nashville, TN

Pat Koelling, RN
President and CEO, AtlantiCare Health Plans, Hammonton, NJ

Vince Kuraitis, JD, MBA
Principal, Better Health Technologies, LLC, Boise, ID

Harry Leider, MD, MBA
President, IFI Health Solutions, a Division of Interactive Forums, Bala Cynwyd, PA

Alice Lind, RN, MPH
Medical Assistance Administration, State of Washington Department of Social and Health Services, Olympia, WA

Ariel Linden, DrPH, MS
President, Linden Consulting Group, Portland, OR

Thomas G. Lundquist, MD, MMM
Executive Vice President & Chief Medical Officer, I-Trax Health Management Solutions, Philadelphia, PA

Frank A. Martin
Chairman and Chief Executive Officer, I-trax Health Management Solutions, Inc., Philadelphia, PA

Chris McKown
President, Health Dialog, Boston, MA

Molly Mettler, MSW
Senior Vice President, Healthwise, Inc., And Co-author, Information Therapy: Prescribed Information as a Reimbursable Medical Service, Boise, ID

Gary Montrose
President, Ashby * Montrose & Co, Denver, CO

Bob Mosby
V.P. Corporate Strategy and Development, QMed Inc., Eatontown, NJ

Esther Nash, MD
Senior Medical Director Health Management Programs, Independence Blue Cross, Philadelphia, PA

Richard Popiel, MD, MBA
Vice President & Chief Medical Officer, Horizon Blue Cross Blue Shield of New Jersey, Newark, NJ

James C. Pyles, Esq.
Principal, Powers, Pyles, Sutter & Verville, PC, Washington, DC

Jim Reynolds
VP, Integrated Care Solutions, Rosemont, IL

Louis F. Rossiter, Ph.D.
Senior Research Fellow, The College of William & Mary, and Consultant, National Pharmaceutical Council, Reston, VA

Christobel E. Selecky
Chief Executive Officer, LifeMasters Supported SelfCare, Inc., Irvine, CA

Richard Stefanacci, DO, MGH, MBA, CMD, CMS
Health Policy Fellow, Department of Health Policy, Jefferson Medical College, Philadelphia, PA

George A. Taler, MD
Director, Long Term Care, Department of Medicine, Washington Hospital Center, Chair, Public Policy Committee, and Past President, American Academy of Home Care Physicians, Washington, DC

Don Taylor
Executive Vice President and COO, American Healthways, Nashville, TN

Jacklynn Thiel
Quality Assurance Program Manager, Montana Medicaid Managed Care, Department of Public Health & Human Services, State of Montana, Helena, MT

Andrew Webber
President and Chief Executive Officer, National Business Coalition on Health, Washington, DC

Thomas W. Wilson, PhD, MPH, DrPH
Principal, Trajectory Healthcare, LLC, and Author, Evaluating ROI in State Disease Management Programs, Loveland, OH


SAVE THE DATE FOR OTHER SUMMER 2004
ADVANCED EXECUTIVE EDUCATION EVENTS
THE PHARMA, BIOTECH AND DEVICE COLLOQUIUM ON
THE CAMPUS OF PRINCETON UNIVERSITY
Advanced Executive Education on the Interface of Regulation and Business Strategy for Global Pharmaceutical, Biotechnology and Medical Device Enterprises
June 6 - 9, 2004
Classes Held: McCosh Hall, Princeton University
Lodging: Forbes College, Princeton University or Nassau Inn, Princeton, NJ
THE QUALITY COLLOQUIUM ON
THE CAMPUS OF HARVARD UNIVERSITY
An Executive Education Course on Patient Safety, Healthcare Quality Enhancement and Medical Errors Reduction for Healthcare Executives, Clinicians and Patient Care Staff
August 22 - 25, 2004
Classes Held: Annenberg Hall, Harvard University
Lodging: The Inn at Harvard, Cambridge, MA